Welcome to TMD
Trevor Main Designs is a digital design studio nestled in the mountains of Crested Butte, Colorado. Our specialty is cultivating fresh ideas from the rich mountain soil and clean mountain air, while focusing our attention on our customer's individual needs. Trevor Main Designs was created to fill the gap in the design and marketing industry in the upper Gunnison Valley. If you're passionate about reaching out to your current customers and potential customers via the internet, you need to talk with us about leveraging the power of the web to your advantage.
Happy Designers in Spectacular Mountains
Crested Butte is the ideal location for TMD as it allows us to find the perfect balance between business, creativity, and recreation. Happy designers and artists must find the time to exercise both their mind and body. The mountains surrounding Crested Butte provide the perfect opportunity to shut down our computers, fire up our bodies and truly open our eyes to the awesomeness of the planet. If you're looking for talented, happy, and healthy designers to propel your company forward, look no further than Trevor Main Designs.
Meet the Owner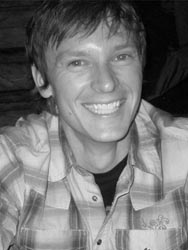 Hometown: Caldwell, Idaho
Education: University of Idaho:

B.S.-Finance
B.S.-Information Systems

Specialties: Adobe Creative Suite, HTML, CSS, WordPress, SEO, Marketing
Hobbies: Skiing, Mtn. Biking, Kayaking, Rafting, Hiking, Cooking, Snowmobiling, Surfing
I have an extremely inquisitive mind that has a constant need to know how things work and to learn new skills. That fact alone explains why I have experimented in so many different jobs and professions: ski technician, raft guide, kayak instructor, bartender, painter, carpenter, mechanic, farmer, ect. Web design is a perfect match for me, as the industry is constantly evolving with new technology. The only way to stay current is to learn something new everyday and apply it. I find the challenge of weaving all of this technology together into a specific, functioning, beautiful graphic design to be fantastic. Start with a pencil sketch. Convert that sketch into Photoshop and add color. Tweak every pixel in Photoshop until it's perfect, and slice it to pieces. Hand code your raw information and those slices in HTML to create a basic page. Style that raw page with CSS so that it looks just like your perfect Photoshop document. Add animation and functionality with JavaScript, jQuery, and Flash. Integrate database information with PHP and MySQL. In the end, turn over a working piece of art to your client that helps them with their bottom line. Magnificent!


When I'm not juggling technology at work, I'm outside. Crested Butte is my home for so many reasons, but reason number one is the mountains. Winter dominates much of the year here, so I'm constantly out skiing at Crested Butte Mountain Resort, touring in the backcountry, Nordic skiing on my neighborhood track, snowmobiling, and occasionally competing in the US Extreme Freeskiing Championships. When the flakes finally stop falling, the snow melts, and the mud dries, I'm outside again. My speed fix is satisfied by biking here in the birthplace of mountain biking. When I need peace and quiet, I just throw on my hiking shoes and head for the ample wilderness surrounding CB. When I need to feel the power of nature, I jump in my kayak and throw some ends at the Gunnison whitewater park. This place is truly unique, and most importantly INSPIRING!